THE team behind Treasures of the South Pacific (TOSP) has had a golden year, culminating with an early Christmas celebration among its trade partners in Sydney yesterday.
"It's been a great 2017 and we're now looking at expanding what we achieved including more functions in key mainland capital cities as well as the secondary cities of the Sunshine Coast, Wollongong and Hobart," said the newly elected president of TOSP, Richard Skewes.
"The support shown from the retail sector has been unbelievable with over 400 agents coming to our events to learn about the South Pacific," said Skewes.
"Ninety-four per cent of agents that attended our functions said they felt more confident selling the South Pacific," he said.
TOSP operates as a not-for-profit organisation representing most of the islands in the South Pacific including the Cook Islands, Samoa, Vanuatu, Papua New Guinea, Tahiti, Solomon Islands, New Caledonia & Norfolk Island.
"We couldn't have achieved what we did without our supporters at the South Pacific Tourism Organisation and Pacific Trade Invest," Skewes said.
"We are all individual islands but collectively we're one big family."
Pictured at yesterday's event at Darling Harbour are Greg Maloney, Norfolk Island Tourism; Manuela Nielsen, New Caledonia Tourism; Annie Peng, Cook Islands Tourism; Chad Morris, Pacific Trade Invest; Bart Druitt, Vanuatu Tourism; Jess Luxton, Vanuatu Tourism; Lauren Whicker, Papua New Guinea Tourism; Richard Skewes, Solomon Islands Tourism; Robert Thompson, Tahiti Tourism, Caleb Jarvis, Pacific Trade Invest; and Onorina Fugawai, Pacific Trade Invest.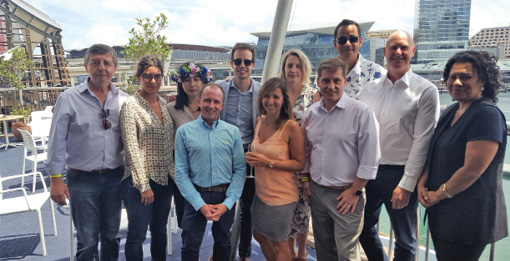 The post Pacific event expansion appeared first on Travel Daily.
Source: traveldaily