TRAVELMANAGERS' personal travel managers (PTMs) were recently reminded you don't have to travel overseas to enjoy a diverse holiday destination.
A group of 20 PTMs enjoyed a three-day famil to the Northern Territory experiencing Kakadu and Litchfield National Parks hosted by AAT Kings.
The trip involved a chance to get up close to some massive saltwater crocodiles courtesy of a boat tour in Kakadu.
Another highlight for the group was exploring some of the most sacred Aboriginal areas across Arnhem Land.
TravelManagers NSW PTM Dana Brown said the chance to experience Kakadu and Litchfield National Parks reminded her how beautiful Australia was.
"I love outback Australia, and this famil provided the perfect opportunity to taste a little bit of it. I certainly wasn't disappointed," she said.
TravelManagers executive general manager Michael Gazal said building supplier relationships was key to the company's business model.
Pictured: PTMs experience the rare opportunity to set foot on Aboriginal areas of Arnhem.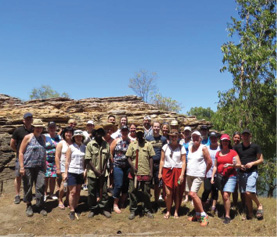 The post PTMs explore Arnhem Land appeared first on Travel Daily.
Source: traveldaily