QANTAS Holidays debuted its dedicated Italy brochure to the trade last night in Sydney, with Cinzia Burnes, executive director Helloworld Travel Limited promising the new program is "very comprehensive".
Burnes said the release was the result of 12 months developing "a new brochure that had the best content on Italy" and included hotels she has chosen and those recommended by DMC Gartour.
Burnes told TD the brochure was mostly aimed at creating tailor-made itineraries but also featured some packages to make it easier for agents to sell.
"We can do anything from the individual tailor-made itinerary from scratch or we can put together these already-packaged modules that we have in each destination to create a tour."
Burnes added that agents should also ensure they prebook their clients on some of the must-do activities, or run the risk of missing out.
"The assumption that we can turn up and get in, particularly in peak season, would be the wrong one," she warned.
Cinzia Burnes is pictured with Andrew Burnes, ceo and md Helloworld Travel Limited.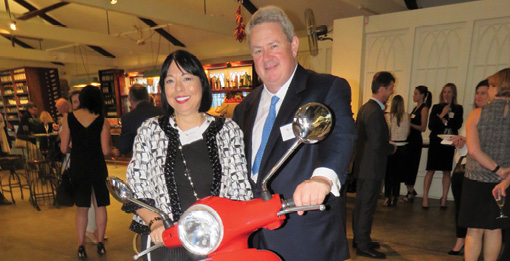 The post Qantas Holidays debuts Italy appeared first on Travel Daily.
Source: traveldaily