QATAR Airways celebrated the launch of its new A380 service from Perth to Doha by this week throwing on a spectacular cocktail event at the Perth Convention and Exhibition Centre.
In attendance were representatives of the Perth travel industry who were shown the carrier's award-winning Business Class seat in the flesh.
Former Miss World Australia, Erin Holland, hosted the swanky affair which was also attended by Qatar Airways' senior manager of Australasia Adam Radwanski, Perth Airport's chief executive, Kevin Brown and chief commercial officer Stevie Holden.
Pictured above are: Nicole Bennett, senior sales executive; Jina Sisaath, cabin crew; Pan Pan, sales exec; Yen Kho, commercial manager Perth; Adam Radwanski senior manager Australasia; Dianne Biviano, marketing manager Australasia; Suzane Yip, senior sales support agent; Danielle Murnane, cabin crew and Albina Obilinovich, sales exec
Pictured below test driving QR's Business class product is Andrew Pitt, Bicton Travel flanked by Jina Sisaath, cabin crew; Chris Briones, engineer and Danielle Murnane, cabin crew.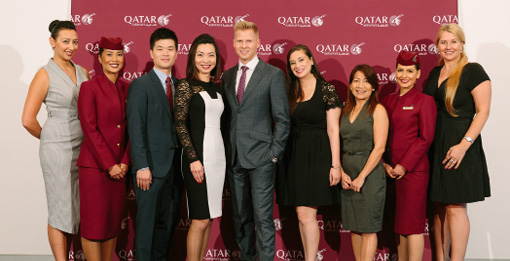 Source: traveldaily