AUSTRALIA'S love for Samoa continues to grow, placing it firmly as the island nation's second largest visitor market behind New Zealand.
A total of 17,077 Aussies visited Samoa between Jan-Jul this year, up 7% compared to the same period last year.
"Samoa offers Australians great value for money", Samoa Tourism Authority (STA) ceo Sonja Hunter told Travel Daily in Samoa.
In the last few years the majority of Samoa's visitors have been couples, adventure travellers and expats, however Hunter said she was keen to see more Aussie families visit.
"We are a safe destination, now offer direct flights from Sydney with Samoa Airways, provide a warm climate, friendly hospitality and a range of tourism products," she added.
Hunter said STA had also identified an opportunity to focus on promoting its niche tourism offerings such as adventure, weddings, MICE and sports.
STA Australia marketing and sales representative Fasitau Ula said, "The Australian travel trade is vital to helping grow Samoa's market share from Australia, and we'll continue to support our partners and work on initiatives to grow sales and numbers".
Next year STA Australia is scheduled to host four agent famils and its 'Beautiful Samoa' roadshows in Jul/Aug.
The Samoa Tourism Exchange will take place in May, and joint agent seminars will also be held in conjunction with the Treasures of the South Pacific team.
Pictured at STA headquarters in Apia, Samoa, are Fasitau Ula, Sonja Hunter and Su'a Hesed Ieremia, communications and liaison officer.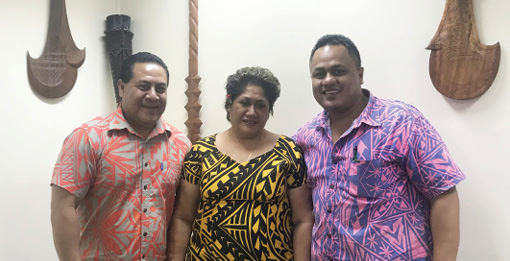 The post Samoa eyes family market appeared first on Travel Daily.
Source: traveldaily