VIKING Cruises made its first visit to Sydney on Sat with the arrival of Viking Sun as part of its inaugural world cruise.
Richard Marnell, senior vice president marketing Viking Cruises told media on board the ship on Sat that the arrival "is a very symbolic experience for us as a brand".
"Today, we're over 6,000 employees and we will carry over 350,000 travellers with us this year," Marnell said.
"We've had over two million satisfied customers, which is about $2b in revenue," he added.
Marnell said the Australian market was "very important" to Viking Cruises, telling Travel Daily "we're expecting the Australian market to do extraordinarily well with this small ship, ocean cruise fleet that we're building".
"The reaction that we're seeing in the marketplace is more than we had expected."
Viking Cruises is sending its fifth ocean vessel, Viking Orion to local waters for a series of sailings in the 2018/19 season, which Marnell warned were selling fast.
"The demand that we're seeing is in excess in the supply that we have right now."
"We're booking eight to 12 months easily in advance right now," Marnell said.
Viking is on a rapid growth trajectory, with Viking Sun its fourth ocean vessel, an additional six ocean ships on order and plans to add seven Viking river Longships to its fleet in 2019.
Marnell told TD the expansion into ocean cruises gave the company a "much greater destinational footprint," adding that Viking believed the adoption of ocean cruising would help boost its river cruising business.
Further inspections were held for travel agents throughout Sat and Sun and the fun continued into the night, with a lavish celebration held at Sydney's MCA overlooking Viking Sun.
More photos from on board the ship HERE and from Sat night's festivities HERE.
Pictured are: Michelle Black, md Viking Cruises Australia and NZ; Richard Marnell, svp marketing Viking Cruises and Sara Conley, senior director, corporate communications and customer engagement, Viking Cruises.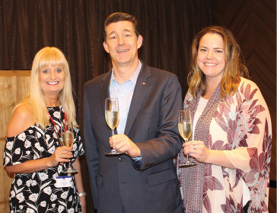 The post The Vikings are here! appeared first on Travel Daily.
Source: traveldaily