WALT Disney World (WDW) Resort in Orlando, Florida will introduce Toy Story Land from the US summer of 2018.
Located within Disney's Hollywood Studios, the 11-acre land features two new attractions alongside giant building blocks, game board pieces and the toys and characters from the series.
Walt Disney Company head of travel and business development AU/NZ David Clark said it will be a must see for people of all ages.
"The new land features two new attractions and also expands on the park's iconic Toy Story Mania attraction," he said.
New attractions include Slinky Dog Dash family coaster and Alien Swirling Saucers, which is designed to look like a play set from Pizza Planet.
An artist's impression of the Toy Story Land is pictured above.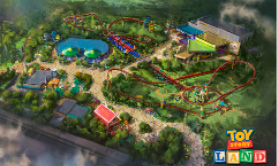 The post Toy Story Land coming to WDW appeared first on Travel Daily.
Source: traveldaily