KLEINDIENST Group has revealed plans to build a "Floating Venice" – a partially underwater luxury resort – at Dubai's offshore island project, The World.
The floating resort will have a capacity of up to 3,000 guests daily, with 414 cabins, restaurants and recreation over four decks, one of which is underwater.
Gondolas imported from Venice will transport guests to their cabins through winding canals, or alternatively travellers can take a stroll through canal side walkways and bridges.
The resort also plans to host festivals such as Carnivale di Venezia, Binnale di Venezia and Festa del Rendentore, which aim to recreate the Venetian spirit.
Construction is scheduled to begin in 2018 with completion by the fourth quarter of 2020.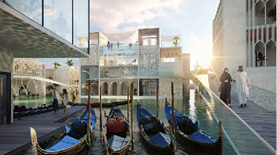 The post Venice coming to Dubai appeared first on Travel Daily.
Source: traveldaily