TRAVEL agents from Helloworld Travel, Escape Travel, Flight Centre and Top Oz Travel were welcomed to the offices of regional airline Airnorth in Darwin to learn first-hand about the carrier's services and products, as well as its strategic plan for 2018.
Visiting agents were treated to an inspection of Airnorth's three aircraft types, followed by a presentation and buffet.
The trip was capped off by a prize draw with the winner being Sam Mikic from Escape Travel who picked up a return trip between Darwin and Cairns flying Airnorth.
Agencies who would like to take part in a similar famil with Airnorth should send enquiries to reservations@airnorth.com.au.
Pictured: Christine Lehars, Helloworld; Daisy Kirkland, Flight Centre; Laura Moore, Flight Centre; Hannah Culley, Flight Centre; Sara Mikic, Escape Travel; Luke Smith, Escape Travel; Robert Jacobs, Escape Travel; Leanne Mason, Top Oz Travel; Angela Panagopoulos, Sealink and Sam Woods from Escape Travel.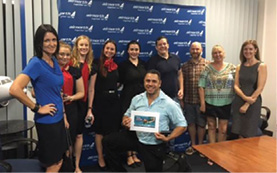 The post Agents head up Airnorth appeared first on Travel Daily.
Source: traveldaily