IT WAS 90 years ago on 09 Jun 1928 that Sir Charles Kingsford Smith "Smithy" flew the Southern Cross into Eagle Farm Airport in Brisbane from Oakland in California over a 10-day period.
In recognition of the first-ever trans-Pacific flight from the US mainland to Australia, Alliance Airlines (QQ) has celebrated the historic crossing with a special livery on one of its Fokker 100s.
The aircraft registered VH-FGB displays an image of 'Smithy' on the tail, while the fuselage features the Fokker F.VIIb/3m Trimotor, named Southern Cross.
A commemorative beer made by Newstead Brewing Co. and dubbed Smithy's FGB (Fokkin' Good Beer) has also launched, available to buy on all QQ flights.
Speaking at QQ's celebratory event in Brisbane yesterday, Australian entrepreneur and aviator Dick Smith said, "Thank you to Alliance Airlines for bringing back the person who started it all – it's important we remember these pioneers who were Aussies & incredibly skillful".
Alliance Airlines – the largest operator of Fokkers in the world – yesterday revealed another luxury 24-seat 'Very Important Fokker', registered as VH-VIF.
The Fokker 100 is set to launch later this year, targeting niche group business and will be available for agents to book with Alliance Airlines' charter team.
Speaking exclusively to Travel Daily executive director Lee Schofield said, "We are really excited about this aircraft and are looking forward to flying it, with enquiries already coming in from bands, touring groups and wealthy individuals".
Pictured at the unveiling of the new livery at Brisbane Airport yesterday are Lee Schofield, Dick Smith, Deborah Hutton and QQ chairman Steve Padgett.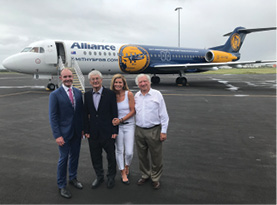 The post Alliance celebrates 'Smithy' appeared first on Travel Daily.
Source: traveldaily