SYDNEY'S Town Hall interior was lit up like it was the Fourth of July in red, white and blue as American tourism destinations wrapped up the last of their annual Visit USA expos for Australia last night.
The Sydney event was the largest of the three shows with 270 agents participating.
Like its other events this week, Visit USA enlisted Richard Reid to call the action as MC.
It was a memorable night for Visit USA president Kylee Kay, who celebrated her last Visit USA expo as president.
To mark the occasion, Kay was presented a commemorative plaque for her work by Monique Roos, senior commercial specialist, US Commercial Service and Consulate General.
The committee of Visit USA has now voted in Lucy Rowe, former vice president of Visit USA, cto step up and lead the organisation to success with all travel trade initiatives for 2018 and the 2019 expo series.
The Visit USA members will stay in Sydney for two more events including a B2B session today with key wholesalers, as well as a media breakfast.
Visit USA is funded by the US and Australian travel industry.
Pictured with Visit USA's favourite son, the one-and-only Richard Reid, are itravel's Leesa McNally, Donna Sheather and Teresa Christopher.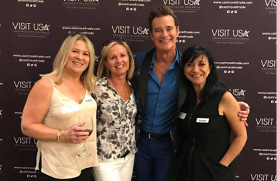 The post Visit USA dazzles in Sydney appeared first on Travel Daily.
Source: traveldaily