THE Californian city of Anaheim is hoping to build on its already "spectacular" levels of tourism as attractions like the Disneyland Resort unveil new projects over coming years.
In Australia last week as part of a sales mission targeting the local travel trade, Visit Anaheim senior vice president of marketing Charles Harris highlighted a string of new developments on the horizon, including Disneyland's Pixar Pier coming next year and its Star Wars: Galaxy's Edge attraction due in 2019.
Anaheim is also about to welcome 2,500 new hotel rooms to its stock, with 12 properties in the pipeline.
Having hosted about 600 Australian travel agents at events in Melbourne, Brisbane and Sydney, Visit Anaheim is promoting assets beyond Disney including the city's growing cluster of craft breweries, its food and dining scene and its big ticket sports attractions like the Anaheim Ducks ice hockey squad and LA Angels baseball team.
"About 1.3 million Australian visitors came to the US last year and nearly half a million of those went to Anaheim," said Harris, adding that Aussies stayed longer and had a high return rate.
The city welcomed 23 million visitors in total last year, and 2017 figures are currently up 12.8%.
Harris is pictured (right) at last week's Sydney roadshow with Visit Anaheim manager of tourism development Ryan Alsup.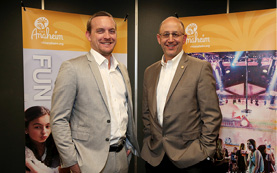 The post Anaheim highlights big plans appeared first on Travel Daily.
Source: traveldaily