AUSTRALIAN Travel Agents Co-operative (ATAC) and Total Holiday Options recently teamed up to send ATAC's best performers on a seven-day famil trip to India.
The subcontinent adventure saw the lucky winners travel through India's Golden Triangle of Delhi, Agra and Jaipur, with the group able to sample some speciality gourmet Indian cuisine sourced from a diverse list of regions along the way.
The trip culminated in a visit to the Holi festival held at the Palace in Jaipur where agents danced to Bollywood music, were serenaded by Rajasthani folk singers and partook in some Rajasthani delicacies.
Pictured celebrating Holi are Amaan Khan, global md at Total Holiday Options; Nicole King; Jade Mannix; Michelle Watts; Sandra Ferraro; Jennifer Day; Megan Hill; Tracy Leigh Van Nierop; Barbara Kemp; Ian Garbutt; Virginia Paton & Georgina Randall (head office).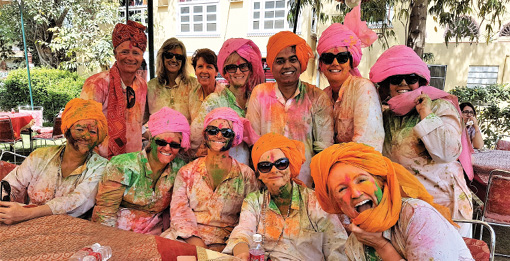 The post ATAC rewards with India appeared first on Travel Daily.
Source: traveldaily