AUSSIE celebrity chef Luke Nguyen has been named as the new Global Cuisine Ambassador for Vietnam Airlines.
The deal was sealed yesterday in Canberra, with VN executive vice president Le Hong Ha telling TD the partnership would help showcase the meticulous care, dedication and warmth of Vietnam Airlines.
"With the help of this partnership we hope to become a five-star airline in the very near future," Ha said.
Chef Luke will take responsibility for creating new in-flight menus to showcase the different flavours of the regions of Vietnam.
In his address Nguyen shared his inspiring story of growing up as a refugee in Australia, where he discovered his love of Vietnamese cuisine in his parents' restaurant.
He said he would use his experience in similar industry partnerships – such as his long-standing association with APT – to promote Vietnam and showcase what the country has to offer.
Nguyen is pictured with VN vice president Le Hong Ha – more pics at facebook.com/traveldaily.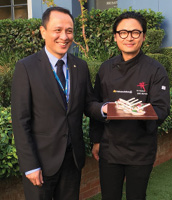 The post VN signs Luke Nguyen appeared first on Travel Daily.
Source: traveldaily