HAINAN Airlines commenced operations on its new twice weekly Shenzhen-Brisbane route last week with the inaugural A330 service landing in BNE on Fri.
It is the first direct flight between the two international hubs, who established a sister-city relationship in 1992.
MEANWHILE, Brisbane Airport has signed a new sister-airport agreement with Chongqing Airport in China.
The partnership will see the two airports share expertise on operational, commercial and tourism market development.
The Memorandum of Understanding was signed during Brisbane Lord Mayor Graham Quirk's recent trip to China.
Currently there are no direct flights between Brisbane and Chongqing.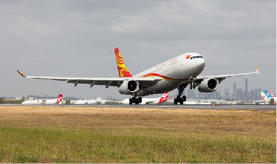 The post Hainan inaugurates Brisbane appeared first on Travel Daily.
Source: traveldaily