VIETNAM Airlines recently treated a team of Helloworld Travel agents to a famil of Vietnam travelling from the north to the south of the country.
Over a week the group explored Halong Bay, Hoi An and Saigon.
Highlights included walking tours, a Halong Bay overnight cruise with the Heritage Line, sampling local cuisines and learning about the country's in-depth history.
Participants experienced Vietnam Airlines' product and the tour arrangements and itinerary was provided by Insider Journeys.
Pictured are: Atina Vertzonis, Helloworld Travel; Jason Sartori, All World Travel Service; Matthew Foreman, Helloworld Travel Drummoyne; Paula Ranalli, Helloworld Travel Surrey Hills; Naomi Hammond, Helloworld Travel Croydon Hills; Monica Busch, Black Rock Travel; Karen Moore, Helloworld Travel Laurieton and Jasmine Maree Levingston, Helloworld Travel Armidale.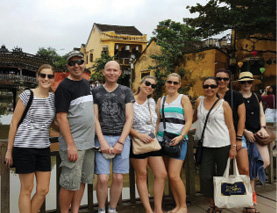 The post Helloworld heads to Vietnam appeared first on Travel Daily.
Source: traveldaily