SCENIC honoured its top achieving agents on Sat night at the sixth annual "Night of Stars" in Sydney – coinciding with the global announcement of the new Scenic Eclipse II (see page 1).
The gala event was hosted by comedian Vince Sorrenti and featured a series of entertainers showcasing various Scenic destinations across the globe – along with the full celebrity cast of TV travel show Getaway.
Senior travel industry staff from across the country were in attendance, with state & national awards for top selling agencies, home-based groups, online agencies and top consultants.
The celebration also marked ten years since Scenic launched its own river ships, with the debut of the 100% Australian company's revolutionary Scenic Spaceships on Europe's waterways.
Weston Travel & Cruise from the ACT was awarded for achieving the highest sales from a single location in 2017 Australia-wide.
Pictured accepting the award are a thrilled Deb Long and Emma Sullivan, with Scenic national sales manager Rob Kalemba and gm sales & marketing Australia/Asia Pacific Anthony Laver.
Lots more pics from Scenic's night of nights now online at facebook.com/traveldaily.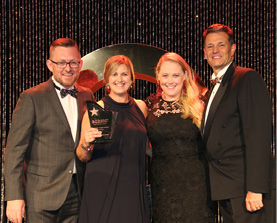 The post Scenic's Night of Stars appeared first on Travel Daily.
Source: traveldaily