THE Australian travel industry gathered in Sydney last Thu 08 Mar for an inspirational International Women's Day event which certainly achieved its aims to empower, inform, excite and exhilarate. Convened by the dynamic Helene Taylor of Jito Connected, the day featured presentations from leading industry females, some of whom related their own stories while others provided hard business input in a series of "bootcamp" educational sessions.
The day wrapped up with a presentation by Aussie freestyle ski champion Jacqui Cooper who related her triumph over adversity.
Sponsors included The Travel Corporation, APT Travel Group, Intrepid, Celebrity Cruises, nib, Air NZ, Abercrombie & Kent and Travel Daily.
More pics at facebook.com/traveldaily.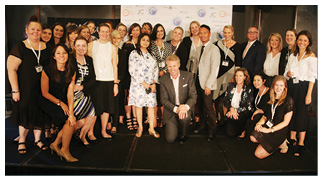 The post Inspiring travel industry greatness appeared first on Travel Daily.
Source: traveldaily