NEW Zealand's newly proposed impost on tourists was a topic of discussion during a panel debate at Routes Asia yesterday, being held at the Brisbane Convention & Exhibition Centre.
IATA regional vice president for Asia Pacific Conrad Clifford said the planned tourist tax would be used to build facilities and infrastructure to cater for more people entering the country.
"We would argue that is completely the wrong way around because the influx in tourism into New Zealand has been a tremendous success," Clifford commented.
"But then you risk turning all that on its head by taxing the very people that you welcome to New Zealand, along with the tourist dollar spend that spurs the economy," he said.
Pictured on the panel from left are moderator, Ed Robertson, Routes News; Caroline Wilkie, Australian Airports Association; Conrad Clifford, IATA and Venggataro Niadu, AirAsia X.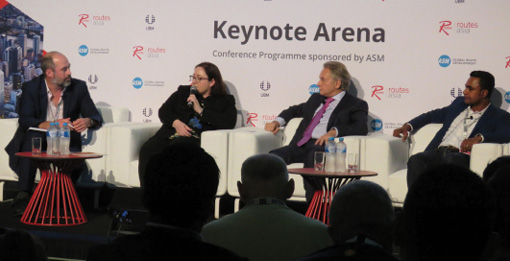 The post Kiwi tourist tax under fire appeared first on Travel Daily.
Source: traveldaily