A GROUP of Magellan Travel Group (MGT) agents were among the first guests to stay at Resplendent Ceylon's new Wild Coast Tented Lodge in Sri Lanka.
The Lodge is set on a white sand beach in Yala National Park and boasts the largest concentration of leopards in the world.
The property offers 36 Cocoon and Urchin luxurious tents.
Hosted by Divine Destinations, Resplendents' rep in Australia, the group were also fortunate to experience the company's two other properties, Tea Trails and Cape Weligama.
Pictured at Wild Coast Tented Lodge from left are Valerie Wright, Broadway Travel; Connie Roos, Worldwide Travel; Kylie Fidler, Trans World Travel; Jacinta Moore, Jigsaw Travel; Fiona Caffery, Travelsense; Kirsty Hewitt, Destination HQ and Michelle Taylor, Divine Destinations.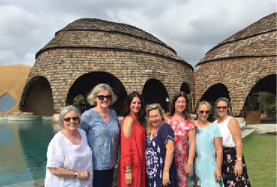 The post MGT sample the Wild Coast appeared first on Travel Daily.
Source: traveldaily