YOUTH-FOCUSED operator Contiki has found that more than half of Millennials and Generation Z want to travel as soon as possible – even if it means having to pay for their own hotel quarantine arrangements.
The company's Voice of a Generation survey canvassed the opinions of 1,200 youth travellers, finding that 63% are definitely planning to travel in 2021, while 71% also revealed they would have no issue with getting vaccinated to travel.
Encouragingly for the Aussie travel industry, three quarters of respondents said they were already "dreaming" about their next domestic holiday, with close to 40% suggesting the option of exploring a new destination was the thing they missed the most during the travel shutdown.
A quarter of participants in the study also indicated they were considering the prospect of taking a travel gap year when borders open and it was safe to do so.
When it came to the booking process, 86% of millennials and Gen Zs noted that flexibility around cancellations was important to them, while three quarters simply wanted more freedom to change and move bookings in general.
The most popular overseas market for the demographic was Europe, claiming 41% of the vote, with one in 10 suggesting a holiday to Asia was the priority.
With international borders closed, Contiki launched a range of local itineraries last year (TD 06 Jul 2020), with the brand's local MD Katrina Barry suggesting demand has been driven by a need to get out and socialise.
"We know most want the opportunity to travel together again with the freedom and flexibility to be social whether travelling solo or with friends".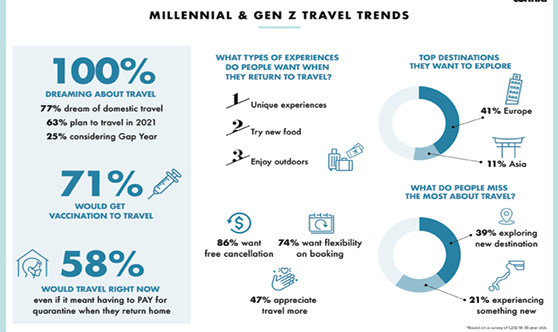 The post Millennials' bags packed appeared first on Travel Daily.
Source: traveldaily