DRIVEAWAY Holidays has reported a positive start to 2018 for France with self-drive numbers on the increase.
Incidents in France over recent years may have deterred the Aussie traveller, however its long-term appeal is slowly luring Australians back, the firm said.
"We are finally seeing a turnaround for France," managing director of DriveAway Holidays Chris Hamill said.
"The French market has been tough, however the airfares on offer, the ground content on offer and the beauty of France that we all love is finally shining through."
Hamill said the resurgence for DriveAway was being led by sales in the Peugeot leasing program, offering an earlybird of up to 10 free days, 50% off delivery and return fees outside of France and free loyalty days – on sale until 23 Mar for collections to 31 Dec.
DriveAway recently hosted Peugeot Open Europe's marketing manager Christophe Spitalier from Paris who was down under to meet the local team and some of the company's key distribution partners in this market.
"We have enjoyed a long partnership with Peugeot and look forward to many successful years ahead," Hamill added.
Spitalier is pictured above (left) with Flight Centre Travel Group Team Leader Josh Burgess at Flight Centre Blues Point.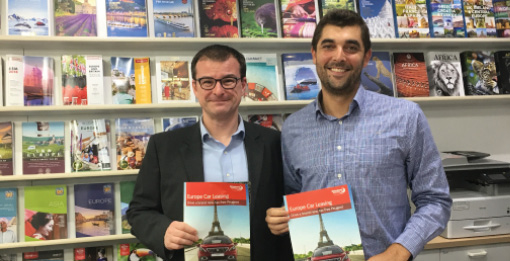 The post Peugeot leasing rebound appeared first on Travel Daily.
Source: traveldaily