TRAVEL Daily and travelBulletin readers have until tomorrow to enter our Aug competition to win a trip to the Philippines (below).
Pictured is a submission from Carolyn Farbrother from Carnival Australia who said: My ideal Philippines holiday is all about relaxation and luxury. Think about snorkeling in the warm waters enjoying the islands natural beauty whilst still being able to enjoy the fresh food washed down with a thirst quenching cocktail and later enjoy a relaxing massage!! All this and fantastic shopping as well!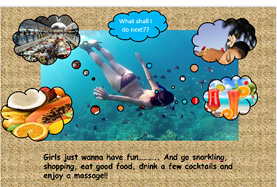 The post Philippine comp last days appeared first on Travel Daily.
Source: traveldaily