QANTAS has launched a range of benefits for travel consultants who complete training on its 'Learning Hub' website, including access to industry fares, discounts on the Qantas Shop and more.
Monthly prizes are also on offer, with various benefits based on the amount of training completed.
Agents are classed as a 'Cadet' when they have completed 0-20% of the site's "learning bites," progressing to '2nd Officer' (20%-50%), '1st Officer' (50%-75%), 'Captain' (75%-95%) and 'Chief Pilot' (95%+).
All statuses have access to discounted fares for the agent and one companion on selected routes, while 2nd Officer+ status gains a 15% discount on the Qantas shop excluding valet parking, flight simulations and baggage tags.
Progressing to 1st Officer gains access to exclusive experiences such as free tickets to sports games, concerts and more offered quarterly on a first-in first-served basis.
Captain members are offered a 50% discount on an annual Qantas Club membership, while Chief Pilots are automatically entered into a monthly draw for a prize valued at up to $1,000.
There's also an annual exclusive dinner for top selling Chief Pilots who have maintained their status for six months.
Agents are able to track their progress by logging in at learninghub.qantas.com.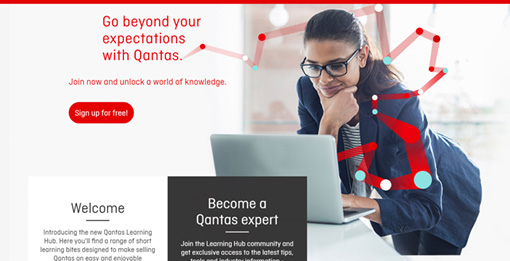 Source: traveldaily