LAST week Samoa played host to members of the My Samoa and My Cruise teams, which form part of the Ignite Travel Group.
Staff from Ignite's product and marketing teams explored the islands of Upolu and Savai'i, visiting attractions including the Samoa Cultural Village, Robert Louis Stevenson's Museum, the Piula Cave Pools, To Sua Ocean Trench, Saleaula Lava Fields and Afu Aau Waterfall, and they even swam with turtles.
Speaking to Travel Daily in Samoa this week, Samoa Tourism Authority Australia marketing and sales representative Fasitau Ula said having the team from Ignite sample the destination firsthand was key to selling Samoa.
"It was great to have the My Samoa team here as we're working on some tactical campaigns with them, which happen to be timely in terms of what we're planning with our own internal campaigns".
The group are pictured above on their final day in the foyer of Sheraton Samoa Aggie Grey's Hotel & Bungalows, Apia with Fasitau Ula (far right).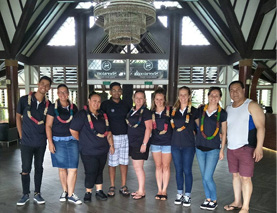 The post Samoa ignites agents appeared first on Travel Daily.
Source: traveldaily