THE largest gathering of Select Travel Group (STG) members and suppliers convened in Sydney this week continuing the groups' Chinese New Year celebrations.
A traditional lion dance opened the evening before chief executive Tom Manwaring welcomed 150 agents and suppliers into the Year of the Dog and provided an update on current trading conditions.
"The way the company is growing at the moment – which is in the very strong double digits both in passenger numbers and in revenue – is showing.
"We've had a record month in Jan, and Feb is trading at 28% growth with the Select Group punching out about 40% of our volume and 60% coming from the ITG and the italktravel franchise groups," Manwaring said.
"The best analogy I can come up with for the Year of the Dog means being loyal to your group, being hungry for business and whilst we're doing all of this, bark occasionally, be noisy and stand up for what we're doing here as an independent group," the company boss added.
"We are the only remaining independent group in Australia," Manwaring said.
Prizes from suppliers were heaped onto STG's members including business and premium economy class flights.
Manwaring is pictured giving the thumbs up alongside staff from the Express Travel Group.
From left are David Cincotta, ETG; Tom Manwaring, Cory Fung, Chung Pak Travel; with ETG's Quynh Giang, Ari Magoutis and Jason Starling.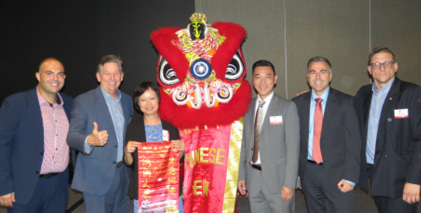 The post Select Travel Group barking loudly appeared first on Travel Daily.
Source: traveldaily