VISIT USA has unveiled a fresh executive (TD yesterday) and full committee for the year ahead.
Key appointments include Lucy Rowe from Dallas/Fort Worth as president; Caroline Davidson, Rocky Mountain International as vice president; Sarah Stevenson from NYC & Co has assumed the role as secretary and David Clark has become treasurer for 2018.
Specialist contractors include Lizzie Doyle as Visit USA's PR contact, while Karen Prideaux will run the organisation's events and Clinton White will preside over administration.
They will be joined by 11 general committee members.
Pictured with the incomparable Richard Reid in his trademark blue floral jacket is David Clark, Lucy Rowe, Caroline Davidson, Sarah Stevenson and Lizzie Doyle.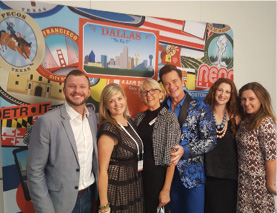 The post Fresh Visit USA committee appeared first on Travel Daily.
Source: traveldaily