AGENTS from South Australia were recently treated to a trip to Fiji courtesy of Qantas Holidays and Air Tickets.
The tour saw the group take part in a bit of fire dancing and local cooking classes before checking out Treasure Island and relaxing in the Naviti Resort on the Coral Coast and Sofitel Fiji Resort and Spa in Denarau.
Enjoying the sights of Fiji are, pictured: Kaye Pridham, Adelaide Travel; Natasha Royals, Air Tickets; Ellen Searle, Helloworld Travel Port Augusta; Louise Kiploks, Travel Extra; Brianna McBain, Tailor Made Travel; Jo Gaskin, Travel Managers; Taylor Hogan, Helloworld Travel Mt Gambier; Emma Minuzzo, Phil Hoffmann Travel Stirling; Hydie Normington, Helloworld Travel Tea Tree Plaza; Kiara Silvester, Naracoorte Travel and Cruise and Nigel Rodighiero, Qantas Holidays.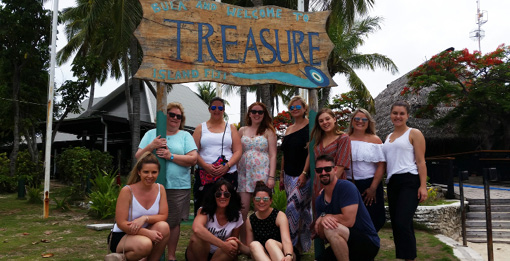 The post South Aussies take on Fiji appeared first on Travel Daily.
Source: traveldaily