THE combined Sydney Skal International Clubs held their annual Christmas charity lunch on Fri at the Four Seasons Hotel, with special guests including an older, fatter Santa Claus.
He's pictured helping club vice-president Walter Nand of Avalon Waterways celebrate with Jeanette Lasek of Travel by Design.
Also in attendance (inset) were some of the team from the International Institute for Peace Through Tourism, while the event saw a presentation from Sydney TAFE about a special scholarship being offered by Skal to help a student study travel, tourism or hospitality – more pics online at facebook.com/traveldaily.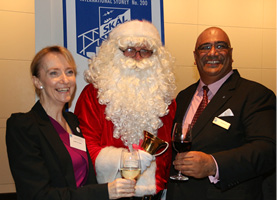 The post Sydney Skal celebrates Santa appeared first on Travel Daily.
Source: traveldaily