THAI Airways this week celebrated the introduction of its A350 XWB on flights between Melbourne and Bangkok.
The new aircraft has been deployed to fly daily non-stop from Melbourne on the carrier's afternoon service in the first instance, replacing the outgoing Boeing 777 aircraft.
A total of 12 Airbus A350 XWB aircraft have been ordered by TG, chosen for its advanced technology and efficiency.
Plans are slated for a Melbourne evening flight to also operate from Feb, subject to confirmation, providing southern Australian pax with two flights each day.
The new aircraft will boast a number of improvements including more stowage space.
The Thai Airways team is pictured marking the A350's first arrival in Melbourne.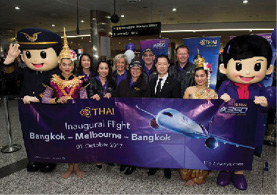 The post Thai's A350 debut in MEL appeared first on Travel Daily.
Source: traveldaily