CONGRATULATIONS to our Salary & Employment Survey winner Alex Linde from Infinity Holidays, South Brisbane, who was among almost 1,200 readers who took part in this year's study.
Linde, pictured, won a FitBit Alta fitness tracker for contributing and is looking forward to putting it through its paces.
The 2017 Salary & Employment Survey has provided a detailed picture of pay conditions in the travel industry, revealing which sectors offer the highest incomes and who's lagging behind.
It also shows which areas of the travel industry show the highest staff satisfaction rates and what progress the industry has made on reducing the pay divide between men and women (the news isn't good).
Keep an eye on Travel Daily to find out more or pick up a copy of the Oct issue of travelBulletin for the full results.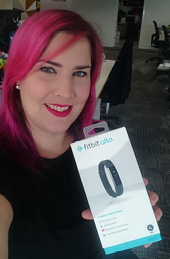 The post Salary survey results are in appeared first on Travel Daily.
Source: traveldaily