LAST night the threefold luxury of Back-Roads Touring, Tauck and Silversea Cruises was jointly showcased to My Travel Group and Helloworld Associate members at an intimate Melbourne event evoking the essence of the upmarket brands.
As well as presentations about each product, attendees were treated to a "gnocchi master class" at the RACV Club by chef Mark Normoyle.
After trying out the tasty delights the treats continued with an array of desserts and a surprise opera performance in the venue's Chancery Lane wine cellar by tenor Brenton Spiteri.
The event also included a presentation from HLO's new interest free travel finance provider, HSBC (see page 1) along with the launch of a "triple indulgence" incentive to encourage agents to book clients across all three travel brands.
Interestingly, Back-Roads' Emma McInnes noted that 55% of the company's bookings were by clients who were also undertaking a cruise, with the new Back-Roads Asia program and existing Europe itineraries complementing Tauck and Silversea perfectly.
Pictured from left are Emma McInnes, Back-Roads Touring; Julie Pratt, Helloworld Associates; Anastasia Kotan, Silversea Cruises; Captain Dennis Basham, Back-Roads Touring; Michelle Riel, My Travel Group; Natalie Hudson, My Travel Group; Themi Eglezos, HSBC; and Rachel Javier, Tauck/Travel the World.
See facebook.com/traveldaily.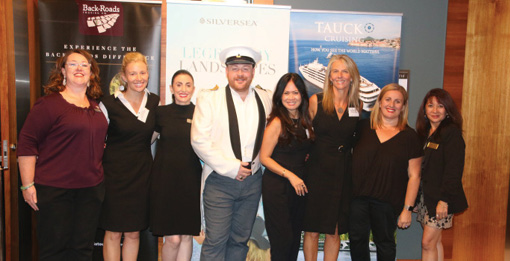 Source: traveldaily