CONSUL General of the USA Valerie Fowler opened the doors to her Sydney residence last night, playing host to guests of United Airlines.
The celebration marked the airline's first non-stop flights from Houston to Sydney, with the inaugural flight UA101 landing on Sat (TD yesterday).
According to Fowler, the non-stop service will get passengers to New York faster than any other way, and will open up 70 new one-stop destinations for travellers coming out of Sydney.
"This is a really exciting thing for anyone interested in the USA and Australia relations, whether it's for business, tourism, leisure travel or students – it's a win altogether," said Fowler.
The new service is expected to attract 27,000 new visitors to Sydney, equating to a $50m injection into the local economy.
Among the UA staff from Chicago and Sydney at last night's event were corporate partners from the States, TMC's, travel agency representatives, government delegates and media.
UA vp worldwide sales Dave Hilfmen praised those involved in securing and welcoming the inaugural flight to Sydney Airport.
Pictured is Dave Hilfmen; Valerie Fowler; Julie Reid, UA director of AUS/NZ and Geoff Culbert, Sydney Airport's new ceo.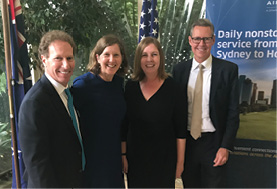 The post US Consul turns it on for United appeared first on Travel Daily.
Source: traveldaily