THE tiny kingdom of Bhutan is aiming to double its Australian arrivals this year as it marks a landmark anniversary in relations between the two countries.
Having waived fees and introduced discounts of up to 50% for Australian travellers (TD 28 Nov), the Himalayan country is this year celebrating 15 years of diplomatic ties with Canberra.
At a roadshow for about 80 travel agents in Sydney last night, Bhutan's Minister for Economic Affairs Lyonpo Lekey Dorji said the initiative recognised the role Australia had played in assisting the country's emergence as an open democracy.
"This is a small token of our appreciation for what the people of Australia have done," he said.
Under the Bhutan-Australia Friendship Offer, all Australian nationals visiting Bhutan between Jun and Aug this year can opt not to pay the mandatory minimum daily package rate of US$200pppn, and instead pay only the Sustainable Development Fee of US$65pppn.
Australians can also receive airfare discounts of up to 30% and hotel savings of up to 50%.
Having welcomed 2,200 Australians last year, Bhutan hopes the anniversary initiative will result in a 100% increase in visitors during 2018.
Dorji said the demographics of Australian visitors had been diversifying recently as the country attracted younger visitors and those looking for luxury and cultural authenticity.
Pictured at last night's event are Bhutan Minister for Economic Affairs Lyonpo Lekey Dorji, the country's Consul General to Australia Catherine Harris, Tourism Council of Bhutan director Chhimmy Pem, and Bhutan Dept of Bilateral Affairs director general Kesang Wangdi.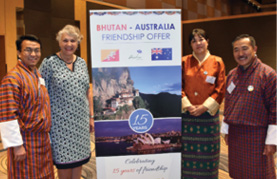 The post Bhutan extends friendship appeared first on Travel Daily.
Source: traveldaily