TOURISM & Transport Forum (TTF) Australia held an Asian Industry Panel Discussion as part of the 2017 Leadership Summit last week.
The 2017 summit explored the theme of "Towards 2040", diving into topics including "Beyond China, what are the next growth markets?"; "What are the industries of the future?" and "What role will Australia play in this exciting new world?"
Wendy Wu Tours md of Australia & NZ, Andrew Mulholland took part in the panel at the event which focussed on securing stronger visitor travel between Australia & Asia (pictured).
Mulholland was joined on the panel by Matt Bekier, ceo and md of the Star Entertainment Group, and Martin Winter, ceo of Gold Coast Tourism.
MEANWHILE, Wendy Wu Tours has revealed its new trade portal will be rolled out to the USA in early 2018.
Its newly appointed global group chief Joe Karbo said the move would provide US partners and agents online access to the Wendy Wu Tours' travel portfolio and a faster booking process.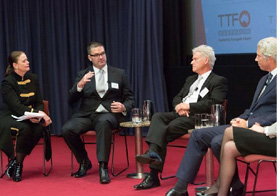 The post Wendy Wu has its say at summit appeared first on Travel Daily.
Source: traveldaily