MARRIOTT International today officially opened its newest 5-star hotel in Australia with the debut of The Westin Perth in the city's revamped East End quarter.
The Westin Perth is the first of four new hotels to open locally within the brand's pipeline, with other sites including Brisbane, Darwin and Coolum.
"The Westin brand is synonymous with well-being and we believe the property will deliver a unique hospitality offering to the West Australian hotel market," The Westin Perth gm Peter Brampton said.
The 368-room "world-class property" features 10 Club Suites, eight Westin Suites, five Executive Suites and a Presidential Suite.
Celebrity chef Guy Grossi has opened his first bricks and mortar restaurant outside Victoria at The Westin Perth, called Garum in the heritage listed Hibernian Hall.
MEANWHILE, modified plans for Marriott International's sister brand W Hotel at The Ribbon in Darling Harbour, Sydney have been submitted to the NSW Govt.
The latest submission details a reconfiguration of the hotel's previous indoor rooftop pool area to now be open air and a new swimming pool on Level 16.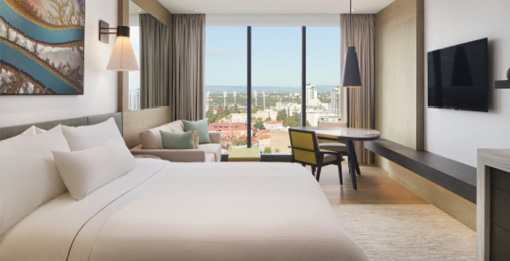 Source: traveldaily