HAWAIIAN Airlines has signed a major partnership agreement with Japan Airlines that will see both carriers collaborate on a host of important services.
The deal will be effective from 25 Mar and is set to include extensive code sharing arrangements, as well as joint access to lounge facilities and frequent flyer programs.
The marquee benefit of the deal will see both airlines able to increase flexibility and destination choice for their respective travellers moving forward.
"Our partnership will greatly increase travel choices for those in Japan looking to travel to Hawaii as well as for those in Hawaii looking to travel to Japan," said HA ceo Mark Dunkerley.
Passengers will also soon be able to transfer between both airlines' networks at Tokyo Narita.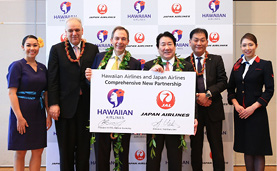 The post HA, JAL ink new partnership appeared first on Travel Daily.
Source: traveldaily