JAPAN is aiming to continue its double-digit tourism growth into the next decade as it works to capitalise on major events including the 2020 Tokyo Olympics and next year's Rugby World Cup.
At the Visit Japan Travel Mart in Tokyo yesterday, the Japan National Tourism Organization (JNTO) outlined its ambition to attract 40 million annual visitors by 2020 – a doubling of levels achieved in 2015 – with further aims to hit 60 million by 2030.
Last year the country posted its fifth consecutive year of record arrivals, achieving 19% growth to reach a total of 28.69 million visitors, including almost half a million Australians.
JNTO executive vice president Mamoru Kobori said Japan was also aiming to double annual visitor spending to the equivalent of A$100 billion by 2020, while at the same time implementing strategies to spread tourism beyond the traditional "golden route" between Tokyo and Kyoto.
"Our promotional efforts are focussed on pursuing these miracle targets," Kobori said.
"Japan is now ranked 16th in the world for inbound tourism arrivals and is catching up to other front-runner destinations.
"By our estimate, Japan is catching up now to Thailand and Malaysia and closing the gap quite rapidly."
Kobori said Asian markets remained Japan's biggest source of overseas visitors, however JNTO planned to boost arrivals from the US, Canada, Australia and Europe via the Enjoy My Japan campaign launched in Feb.
"These travellers usually have little experience in travelling to Japan, but they are potentially active travellers with great potential including for high-end luxury," he said.
"Growth from these markets meets our expectations and JNTO has increased its penetration into these long-haul markets by participating in luxury exhibitions around the world."
Australia is currently Japan's seventh largest market and provides some of its biggest-spending visitors – second only to China in average outlay.
Kobori said JNTO's research showed Australians rated Japanese cuisine as their most preferred attraction, followed by winter sports, culture & history, sight-seeing and hot springs.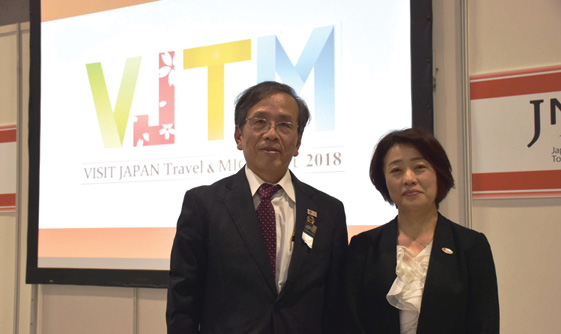 Source: traveldaily