DEVELOPER Destination Brisbane Consortium has filed an application seeking approval for buildings up to 74 storeys high for the Queen's Wharf project in the Brisbane CBD (pictured).
If successful, the $3b project would allow for 600 more hotel rooms than previously proposed.
In the original application, the developers had planned on building 1,000 hotel rooms.
The development application submitted to the Queensland state government has now opened for the public to provide comment on the proposal at the Government precinct.
As per the plan, the firm has proposed towers as high as 265 metres, which is nine metres short of the AirServices Australia-mandated height limit of 274m.
The Queen's Wharf site will include a casino, resort complex, hotel, bar, park, shops, residential, parking, a microbrewery, a major sport, recreation and entertainment facility, and a cross-river pedestrian bridge to South Bank.
The resort is expected to open during 2022, with the final project to be completed by 2024.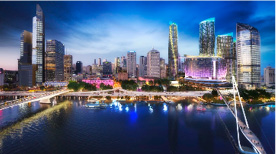 The post Queen's Wharf getting bigger appeared first on Travel Daily.
Source: traveldaily