A BEHIND-THE-SCENES tour of one of Boeing's factories outside Seattle was on the cards for a group of top selling Helloworld Travel agents on a recent famil to the USA, courtesy of United.
The private tour of the aircraft manufacturer's production line was a bucket list item for many in the group, while other activities in the US Northwest city included an Argosy cruise on Lake Union and the Savor Seattle food tour of Pike Place Market.
The agents then headed to Denver, the home of United Airlines' flight training centre where the group's flying abilities & quick thinking were put to the test in the 747 simulators and emergency evacuation training.
The week concluded with a stop in San Francisco featuring touring with Eric @ SFAdventures, and the 'heavenly beds' at Westin St Francis before the group put their feet up & flew home in the comfort of UA's Polaris Business class.
Pictured at Boeing's factory from left are Rachel Yau, Helloworld Travel Alice Springs; Bronwyn Patel, Warrnambool Travel; Rossmarie Nunez, Austral Tours; Greg Mangos, Travel Utopia; Rosemary Thomas, Helloworld Travel Niddrie; Belinda Condon, United Airlines; Silvana Petrovski, Helloworld Travel Wollongong; Chantelle McNicholl, Helloworld Travel Lisarow; Domenico Labbozzetta, Marconi Travel and Vlado Ristevski, Air Tickets.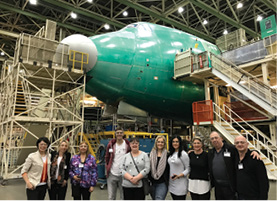 The post VIP Boeing tour for HLO appeared first on Travel Daily.
Source: traveldaily